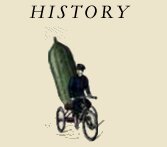 "It is true, the spoken word enlightens both the spirit and the soul. Indeed, the HENDRICK'S Master Distiller can often be heard talking at length to her 'two little sweeties' – the delightful and peculiarly small copper pot stills from which the most unusual gin flows."
I AM AMAZED AND KNOW NOT WHAT TO SAY! - A VILE VAUDEVILLE OF GOTHIC ATTRACTIONS
Illustrated lecture by Mervyn Heard, author of "Phantasmagoria- The Secret Life of the Magic Lantern"
11th June 2013
Doors at 6:30 / Talk begins at 7:00 pm
Ticket price £7

An illustrated talk in which writer and showman 'Professor' Mervyn Heard waxes scattergun- sentimental over some of the more bizarre, live theatrical experiences of the 18th, 19th and early 20th century – from the various ghastly manifestations of the phantasmagoria to performing hangmen, self-crucifiers and starving brides.

Mervyn Heard
Mervyn Heard is the author of Phantasmagoria- The Secret Life of the Magic Lantern(2006), was responsible for designing the phantasmagoria instillation for the Tate Britain's Gothic Nightmare (2006), and has staged bespoke magic lantern performances worldwide in playhouses, cinemas, department stores, museums, tents and dissecting theatres.

The Last Tuesday Society is honoured to house this exhibition and lecture series cultivated in collaboration with Joanna Ebenstein of the rightfully venerated 'Morbid Anatomy' Library, Museum & Blog.

Talks take place at The Last Tuesday Society at 11 Mare Street, London, E8 4RP - please click here to buy tickets