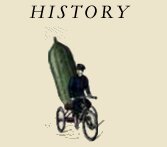 "It is true, the spoken word enlightens both the spirit and the soul. Indeed, the HENDRICK'S Master Distiller can often be heard talking at length to her 'two little sweeties' – the delightful and peculiarly small copper pot stills from which the most unusual gin flows."
The Vampires of London: A Cinematic Survey with William Fowler (BFI) and Mark Pilkington (Strange Attractor)
18th July 2013
Doors at 6:30 / Talk begins at 7:00 pm
Ticket price £7

This heavily illustrated presentation and film clip selection explores London's Highgate Cemetery as a locus of horror in the 1960s and 1970s cinema, from mondo and exploitation to classic Hammer horror.

William Fowler is curator of artists' moving image at the BFI National Archive and co-programmes the cult cinema strand at Flipside at BFI Southbank.

Mark Pilkington runs Strange Attractor Press and is the author of 'Mirage Men' and 'Far Out: 101 Strange Tales from Science's Outer Edge'.

The Last Tuesday Society is honoured to house this exhibition and lecture series cultivated in collaboration with Joanna Ebenstein of the rightfully venerated 'Morbid Anatomy' Library, Museum & Blog.


Talks take place at The Last Tuesday Society at 11 Mare Street, London, E8 4RP - please click here to buy tickets