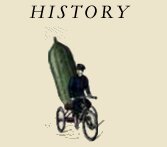 "It is true, the spoken word enlightens both the spirit and the soul. Indeed, the HENDRICK'S Master Distiller can often be heard talking at length to her 'two little sweeties' – the delightful and peculiarly small copper pot stills from which the most unusual gin flows."
Gemma Angel on The History of the Tattoo.
Talk took place on Monday 17th September 2012
Podcasts may take a few minutes to load, please be patient.
The late nineteenth and early twentieth centuries saw an explosion in academic interest in the tattoo. Tattoos played a significant role in medico-legal research across a wide range of disciplines, notably forensic medicine, criminology, anthropology and psychiatry. Whilst many scholars collected data on tattooing in the form of drawings and occasionally through photography, tattooed skins where also harvested. These historic collections now reside in a number of museums and archives across Europe. The largest of these collections, consisting of 300 such objects, is currently held in storage at the Science Museum, London.

Whilst little is known about the specific processes involved in the preservation of human skins such as those in the Science Museum, parallels may be drawn with the related practice of anthropodermic bibliophagy, or the binding of books in human skin. In contrast with other anatomical preservations, the skins in both cases are dry-prepared, or tanned, in a
manner akin to the production of animal leathers typically destined for practical use. As late as the 1920's it wasreported that private collectors were still commissioning human skin bookbindings, some of which were of specific interest for the collector due to their tattooed motifs.

In collections of tattooed human skin and anthropodermic bibliophagy alike, an intriguing relationship is set up between bodily surface and knowledge in which the skin may be regarded as both a kind of text and text-wrapping.

Gemma Angel is currently in the final stages of her PhD at UCL, in
collaboration with the Science Museum, London. Her research centres upon a collection of 300 preserved tattooed human skins, which were purchased in June
1929 in Paris and historically formed part of the Wellcome Collection. Gemma has long been fascinated by skin and tattooing, and has previously trained as a massage therapist and a tattooist. When she is not studying fragments of preserved tattooed human skin, Gemma enjoys tying herself in knots suspended from the ceiling, learning the art of aerial silks. For more information on her PhD project, visit www.lifeand6months.com
The Last Tuesday Society is honoured to house this exhibition and lecture series cultivated in collaboration with Joanna Ebenstein of the rightfully venerated 'Morbid Anatomy' Library, Museum & Blog.