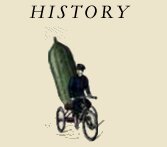 "It is true, the spoken word enlightens both the spirit and the soul. Indeed, the HENDRICK'S Master Distiller can often be heard talking at length to her 'two little sweeties' – the delightful and peculiarly small copper pot stills from which the most unusual gin flows."
AN EVENING OF STORY TELLING
With Sarah Rundle
Sunday the 10th of July 2011
Doors at 5 pm, Stories commence at 6 pm
Kamishabi, literally "paper drama", is a form of storytelling that originated in Japanese Buddhist temples in the 12th century, where monks used e-maki(picture scrolls) to convey stories with moral lessons to a mostly illiterate audience. Performing tales of mystery and desire originating in the Far East, and dazzling us with the likes of Kamishabi and other exotic story-telling techniques, Sarah Rundle takes us on a new adventure from the geishas of Japan to the mysterious courtesans of China.

Sarah Rundle
Sarah Rundle is a professional storyteller and actor based in West London. She trained in community storytelling in south Cheshire and in acting at Drama Studio London. Over the last seven years she has performed at a diverse range of venues, from museums and theatres, to pubs, cafes, and a Saxon longhouse.


Stories at 11 Mare Street - please click here to buy tickets