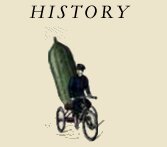 "It is true, the spoken word enlightens both the spirit and the soul. Indeed, the HENDRICK'S Master Distiller can often be heard talking at length to her 'two little sweeties' – the delightful and peculiarly small copper pot stills from which the most unusual gin flows."
THE STEAMPUNK BIBLE
A Guide to the World of Imaginary Airships, Corsets and Goggles, Mad Scientists, and Strange Literature
With S. J. Chambers
Tuesday the 6th September 2011
Doors at 6 pm, Show commences at 7 pm

Over the past fifteen years, Steampunk - a mash-up of Victorian and sci-fi aesthetics with a splash of punk rock attitude - has gone from being a literary movement to a part of pop culture and a way of life. This subculture celebrates the inventor as an artist and hero, re-envisioning and crafting retro technologies including antiquated airships and steam-powered robots. The Steampunk aesthetic now permeates movies, comics, fashion, art and more, and has given a distinct flavor to iconic events such as Maker Faire and the Burning Man festival.

In this talk, Chambers will trace the roots and history of this subculture, from the work of its godfathers Jules Verne and H.G. Wells, to the key figures who coined the word that would spawn a literary genre. She will discuss the vast community of craftsmen and artists who translated these originary ideas into a lifestyle with clothing, accessories and an attitude to match.

This evening will appeal to aficionados and novices alike as S. J. Chambers takes us on a wild ride through the clockwork corridors of Steampunk's past, present and future.

S. J. Chambers
S.J. Chambers's fiction and nonfiction has appeared in a variety of publications, including Fantasy, the Baltimore Sun's Read Street Blog, Yankee Pot Roast, Tor.com, and Ann and Jeff VanderMeer's forthcoming anthology Thackery T. Lambshead's Cabinet of Curiosities. She is the articles senior editor at Strange Horizons, a devout Poepathist, a member of the Poe Studies Association, and a regular reviewer for Bookslut.


Talks take place at The Last Tuesday Society at 11 Mare Street, London, E8 4RP - please click here to buy tickets