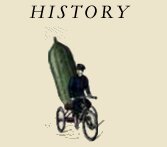 "It is true, the spoken word enlightens both the spirit and the soul. Indeed, the HENDRICK'S Master Distiller can often be heard talking at length to her 'two little sweeties' – the delightful and peculiarly small copper pot stills from which the most unusual gin flows."
THE STRANGE GENIUS OF SIR JOHN SOANE
WITH TIM KNOX
This lecture took place on the 8th December 2010

Tim Knox tells the story of Sir John Soane (1753-1837), one of the greatest of all British architects. Born the son of a humble bricklayer, he rose - through hard work and professionalism, and an advantageous marriage – to eminence as architect of many of the most prestigious buildings of the Regency era, notably the Bank of England, a Neocloassical masterpiece which he called 'the pride and boast of my life'. The Bank was demolished in 1925, but many of Soane's lesser works; a brace of country houses and tombs, a picture gallery, and most of all his idiosyncratic house-museum in Lincoln's Inn Fields, London, still survive and attest to his innovatory architectural ideas and mastery of space and light. A prickly, difficult man, but capable of deep friendships and great generosity, Soane's extraordinary devotion to architecture and collecting is commemorated by his Museum, an amazing, glittering treasury which survives almost exactly as he left it. Tim Knox, Director of Sir John Soane's Museum in London draws upon Soane's own archive to paint a fresh picture of this strange, tormented genius of British architecture.

Tim Knox
Born in Africa in 1962, and brought up in Nigeria and Fiji, Tim Knox studied history of Art at the Courtauld Institute of Art of the University of London. He was later Assistant Curator at the Royal Institute of British Architects Drawings Collection and in 1995 he joined the National Trust, succeeding the late Gervase Jackson-Stops as its Architectural Historian. He was appointed Head Curator of the National Trust in 2002, taking over the direction of the research, care and presentation of the 450 historic properties in its care.

In 2005 Knox was appointed Director of Sir John Soane's Museum in Lincoln's Inn Fields, London, where he relishes the challenge of making this most idiosyncratic of all architectural museums better known and more accessible to the public, while retaining its unique atmosphere and special charm. Tim Knox lives in Stepney in the East End of London, where he has restored from dereliction an eighteenth-century merchant's house as a setting for his eclectic collections of art and natural history. He regularly writes and lectures on art, architecture and the history of collecting.