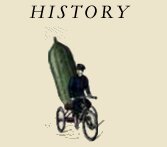 "It is true, the spoken word enlightens both the spirit and the soul. Indeed, the HENDRICK'S Master Distiller can often be heard talking at length to her 'two little sweeties' – the delightful and peculiarly small copper pot stills from which the most unusual gin flows."
A SEANCE - CONTACTING THE DEAD ON THE EVE OF HALLOWE'EN
With Philipp Magos
Tuesday the 30th October 2012
Doors at 6 pm, Show commences at 7 pm

"Tonight we will contact a spirit. Think of a question that is important to you.

Maybe there is an answer on the other side."

All Hallows Eve is a day to rouse the spirits from their otherworldly hold and celebrate their existence - Philipp Magos takes advantage of this alignment of the stars and contacts the dead directly. The Little Shop of Horrors is rife with creaking footsteps and ghostly wails already - what will happen when Philipp demands the spirits show themselves to the Society?


Talks at 11 Mare Street - please click here to buy tickets