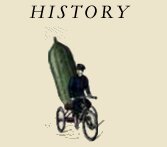 "It is true, the spoken word enlightens both the spirit and the soul. Indeed, the HENDRICK'S Master Distiller can often be heard talking at length to her 'two little sweeties' – the delightful and peculiarly small copper pot stills from which the most unusual gin flows."
FROM THE MAGNIFICENT TO THE MACABRE
Send-Offs for the Dead
With Sarah Murray
Wednesday the 1st of February 2012
Doors at 6 pm, Talk commences at 7 pm

Sending off the dead is something mankind does spectacularly well. There's perhaps no human condition to which more attention has been devoted—faced with death, we create elaborate ceremonies and build great architectural edifices. We bury our loved ones in the ground or burn them in fire. We leave corpses as carrion for the birds, hang them in trees, or stow them in caves. We arrange for riderless horses to accompany the cortege to the cemetery or toss the remains of our fellows into sacred rivers amid the sound of bells and the swirl of incense.

In researching her latest book, Making an Exit St Martin's Press), Sarah Murray traveled the world in search of the best send offs. She will describe her encounters with everything from a spectacular Balinese royal cremation and a chandelier in the Czech Republic made entirely from human bones to the American death care industry's biggest road show and a ghoulish Sicilian crypt where mummified corpses line the walls. Join Sarah for an engaging and highly personal discussion in which she will also present some of the unusual objects and artifacts she collected on her travels (she might even tell you about the plans for her own eventual send off).
Sarah Murray
Sarah Murray's new book is Making an Exit: From the Magnificent to the Macabre—How We Dignify the Dead (St Martin's Press, October 2011). She is also author of Moveable Feasts: From Ancient Rome to the 21st Century, the Incredible Journeys of the Food We Eat (St Martin's Press 2007, Picador 2008). A longtime Financial Times contributor and freelance writer, she lives in New York City.

Talks at 11 Mare Street - please click here to buy tickets