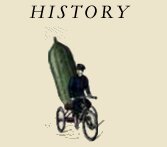 "It is true, the spoken word enlightens both the spirit and the soul. Indeed, the HENDRICK'S Master Distiller can often be heard talking at length to her 'two little sweeties' – the delightful and peculiarly small copper pot stills from which the most unusual gin flows."
From Blue Beads to Hair Sandwiches: Edward Lovett and London's Folk Medicine
An Illustrated lecture with Ross MacFarlane, Research Engagement Officer in the Wellcome Library
15th July 2013
Doors at 6:30 / Talk begins at 7:00 pm
Ticket price £7

During his life Edward Lovett (1852-1933) amassed one of the largest collections of objects pertaining to 'folk medicine' in the British Isles. Lovett particularly focused his attention on objects derived from contemporary, working class Londoners, believing that the amulets, charms and mascots he collected - and which were still being used in 20th century London - were 'survivals' of antiquated, rural practices. Lovett, however, was a marginal figure in folklore circles, never attaining the same degree of influence as many of his peers. Whilst he hoped in his lifetime to establish a 'National Museum of Folklore', Lovett's sizeable collection is now widely dispersed across many museums in the UK, including Wellcome Collection, the Science Museum, the Pitt Rivers Museum and the Cuming Museum. This paper will offer an overview of the range of healing objects Lovett collected, the collecting practices he performed and recent efforts to rehabilitate his reputation.

Ross MacFarlane is Research Engagement Officer in the Wellcome Library, where he is heavily involved in promoting the Library's collections, particularly to academic audiences. He has researched and given public talks on such topics as the history of early recorded sound and the collecting activities of Henry Wellcome and his members of staff. Ross is a frequent contributor to the Wellcome Library's blog (http://blog.wellcomelibrary.org) and has had led guided walks around London on the occult past of Bloomsbury and the intersection of medicine, science and trade in Greenwich and Deptford.

The Last Tuesday Society is honoured to house this exhibition and lecture series cultivated in collaboration with Joanna Ebenstein of the rightfully venerated 'Morbid Anatomy' Library, Museum & Blog.


Talks take place at The Last Tuesday Society at 11 Mare Street, London, E8 4RP - please click here to buy tickets