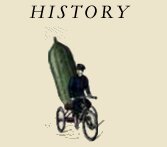 "It is true, the spoken word enlightens both the spirit and the soul. Indeed, the HENDRICK'S Master Distiller can often be heard talking at length to her 'two little sweeties' – the delightful and peculiarly small copper pot stills from which the most unusual gin flows."
"Documenting the Sublime: The Midnight Archive and its subjects" with Ronni Thomas & The Real Tuesday Weld.
Monday 10th September 2012
Doors at 6 pm, Show commences at 7 pm
An odd year ago - based on a series of lectures and events at the Brooklyn Observatory, filmmaker Ronni Thomas was inspired to document some of the institutions most unique and esoteric subjects and topics. Director and lecturer Ronni Thomas will present and discuss and screen some of his most memorable episodes as well as display some artifacts collected from the filming experience (including a hands on look at his private collection of diableries - 3d tissues of satan's daily life in hell). A soundtrack for the evening will be provided by Series composer and The Real Tuesday Weld frontman Stephen Coates.




The series was created by Ronni Thomas a Brooklyn NY Native who has had a longtime fascination with the bizarre and the unknown. His films have shown round the world and he has written for numerous film and arts magazines (occasionally under the silly post-punk nickname Ronni Raygun). The Midnight Archive is the first series to be produced by a new online 'network' hellobox.tv.
The Last Tuesday Society is honoured to house this exhibition and lecture series cultivated in collaboration with Joanna Ebenstein of the rightfully venerated 'Morbid Anatomy' Library, Museum & Blog.

Talks at 11 Mare Street - please click here to buy tickets