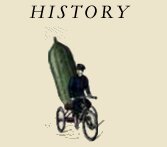 "It is true, the spoken word enlightens both the spirit and the soul. Indeed, the HENDRICK'S Master Distiller can often be heard talking at length to her 'two little sweeties' – the delightful and peculiarly small copper pot stills from which the most unusual gin flows."
NECROPOLIS: London and its Dead
With Catharine Arnold
Thursday the 10th November 2011
at Paradise by Way of Kensal Green
Doors at 6 pm, Show commences at 7 pm
From Roman burial rites to the horrors of the plague, from the founding of the great Victorian cemeteries to the development of cremation and the current approach of metropolitan society towards death and bereavement -- including more recent trends to displays of collective grief and the cult of mourning, such as that surrounding the death of Diana, Princess of Wales -- in this talk Catherine Arnold offers a vivid historical narrative of this great city's attitude to going the way of all flesh.

As layer upon layer of London soil reveals burials from pre-historic and medieval times, the city is revealed as one giant grave, filled with the remains of previous eras -- pagan, Roman, medieval, Victorian. Catherine's fascinating blend of archaeology, architecture and anecdote includes such phenomena as the rise of the undertaking trade and the pageantry of state funerals; public executions and bodysnatching.

Catherine will leave no headstone unturned in her exploration of our changing attitudes to the deceased among us.
Catharine Arnold
Catharine Arnold read English at Cambridge and holds a further degree in psychology. A journalist, academic and popular historian, Catharine's previous books include the novel "Lost Time", winner of a Betty Trask award. Her London trilogy for Simon & Schuster comprises of "Necropolis: London and Its Dead", "Bedlam, London and Its Mad" and "City of Sin, London and Its Vices".


This talk takes place in Paradise (conveniently located at 19 Kilburn Lane, Kensal Green, London, W10 4AE)