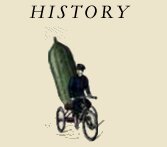 "It is true, the spoken word enlightens both the spirit and the soul. Indeed, the HENDRICK'S Master Distiller can often be heard talking at length to her 'two little sweeties' – the delightful and peculiarly small copper pot stills from which the most unusual gin flows."
MACHIAVELLI'S LAWN
The Great Writer's Garden Companion
With Mark Crick
Thursday the 19th May 2011
Doors at 6 pm, Show commences at 7 pm
Botanically-inspired author Mark Crick appeals to the green-thumb in all of us as he comes to discuss his new book Machiavelli's Lawn: The Great Writers' Garden Companion. For those of us who could use some literary inspiration in our outdoor domestic lives, Crick delivers a lecture on the gardening advice of great authors. From Sylvia Plath's struggles with autumn bulbs, to JD Salinger's helpful hints on growing from seed, Crick will be sure to have us laughing and begging for his gardening tips.
"Inspired, botanically accurate and utterly hilarious, Machiavelli's Lawn will appeal to green-fingered book lovers everywhere. " - Countryside
'Crick's project is underpinned by a solid knowledge and appreciation of the writers he parodies, as well as of the urbane tasks in which he engages them ... erudite and enjoyable prose, no less rewarding for its horticultural accuracy ... Machiavelli's Lawn is a little ge(r)m of postmodern humour' -Thea Lenarduzzi, Times Literary Supplement

'If you feel your plot or small holding would benefit from Niccolò Machiavelli on The Art of Mowing, Isabelle Allende on Dividing Bamboo or Émile Zola on Weedding by Hand then Machiavelli's Lawn is the book for you" - Lindsay Duguid, Times Literary Supplement

'Mark Crick's new parodies continues his winning line in household hints from literary bigwigs" - Rosemary Goring, Herald
Mark Crick
Due to the chronic asthma that accompanied his childhood, Mark Crick's early education was perhaps distinguished more by his absences than by his achievements. Long sleepless nights spent reading by candlelight often took the place of lessons, and Tolkien, Jack London and Robert Louis Stevenson were frequent visitors at the young Crick's bedside. Exhausted by his literary exertions, he spent daylight hours lying on the sofa drinking Cypriot sherry and following the adventures of his classmates: Brer Rabbit, Long John Silver and the long suffering Odysseus.
In later childhood, his health improved, but reading and literature were by now a firmly rooted part of his life. As a teenager his studies took him to the Petit Lycée Condorcet in Paris, where his eyes were opened to French writers such as Alain-Fournier, Camus, Colette and Cocteau. He later went on to study literature at Warwick University and at the University of London.
After his studies, Crick worked as nurse, teacher, carpenter and clerk before beginning his writing career as a freelance photojournalist. His first book, Kafka's Soup, A History of World Literature in 17 recipes, has been translated into over twenty languages. His second book, Sartre's Sink, The Great Writers' Complete book of DIY, was chosen by The Sunday Times as its funny book of the year in 2008. His latest volume, Machiavelli's Lawn, the Great Writers' Garden Companion, is the third and final collection of domestic advice written in the style of the literary greats. Together the books stand as an homage to a few of the great writers who have kept him company on many long and breathless nights.


Talks at 11 Mare Street - please click here to buy tickets