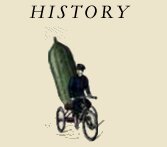 "It is true, the spoken word enlightens both the spirit and the soul. Indeed, the HENDRICK'S Master Distiller can often be heard talking at length to her 'two little sweeties' – the delightful and peculiarly small copper pot stills from which the most unusual gin flows."
Robert Marbury - Rogue Taxidermy in the Digital Age
This talk took place on Tuesday 4th September 2012
Podcasts may take a few minutes to load, please be patient

When Robert Marbury was 19 years old, he necked with Ricki Lake on camera. At age 29, he spent a year sailing in Indonesia, where he says his ship was attacked by pirates.Four years later, he was one of the three co-founders of the Minnesota Association of Rogue Taxidermists.
Known as a vegan taxidermist, Robert Marbury documents the existence of little known wild and feral plush animals inhabiting our urban environments. With tongue firmly in cheek, through his Urban Beast Project, Marbury hopes to garner attention and general concern for the plight of such strange creatures. As he describes on his webpage: while most of the Urban Beasts exhibited on his site "have met the end of their species, it is our hope that with exposure and attention many other Beasts will be saved."

Tonight's talk will touch on image sharing, legal limitations, collecting, renewed interest in gaff and travel taxidermy as well as death and the impulse to make contact.
Robert Marbury is an artist from Baltimore Maryland. He is
the Director and co-Founder of the Minnesota Association of Rogue
Taxidermists.