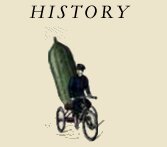 "It is true, the spoken word enlightens both the spirit and the soul. Indeed, the HENDRICK'S Master Distiller can often be heard talking at length to her 'two little sweeties' – the delightful and peculiarly small copper pot stills from which the most unusual gin flows."
A Theatrical Evening of Ghost Raising Entertainment...
A GRAND GOTHIC MAGIC LANTERN SHOW
with Professor Mervyn Heard
Halloween Night - the 31st October 2011
Two seatings:
1st - Doors at 6 pm, Show commences at 7
2nd - Doors at 8 pm, Show commences at 9

"Astonishment seized me. My bones shivered within me. My flesh trembled over me. My lips quaked. My mouth opened. My hands expanded. My knees knocked together. My blood grew chilly, and I froze with terror."

Such is the might of the magic lantern and on Halloween Night, Professor Mervyn Heard will conjure up the black art of Phantasmagoria with his 19th Century Magic Lantern. Watch and behold as skeletons waltz across the wall and nuns bleed to their death despite a life of virtue.

Professor Mervyn Heard
Professor Heard is a professional lanternist who has presented shows in a variety of venues in over 16 different countries. Past international venues and audiences have included:
Tate Britain, the Royal Opera House, the Cinemateca Junior in Lisbon, The Museo Nazionale in Turin, Blists Hill Victorian Town and the Hankyu department store in Japan.
"...19th century history has never been so fresh, so entertaining or quite so surprising." -- The Guardian

Shows take place at The Last Tuesday Society at 11 Mare Street, London, E8 4RP - please click here to buy tickets