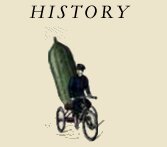 "It is true, the spoken word enlightens both the spirit and the soul. Indeed, the HENDRICK'S Master Distiller can often be heard talking at length to her 'two little sweeties' – the delightful and peculiarly small copper pot stills from which the most unusual gin flows."
The Walking Dead in 1803
An Illustrated Lecture with Phil Loring,
Curator of Psychology at the Science Museum in London
25th June 2013
Doors at 6:30 / Talk begins at 7:00 pm
Ticket price £7

A visiting Italian startled Londoners at the turn of the 19th century by making decapitated animals and executed men open their eyes and move around, as if on the verge of being restored to life. This was not magic but the power of electricity from the newly invented Galvanic trough, or battery. It was also the dawn of the modern neurosciences, as the thrust behind these macabre experiments was to understand the energy that moved through the nerves and linked our wills to our bodies. This talk will discuss a variety of historical instruments from the Science Museum's collections that figured in these re-animation experiments, including the apparatus used by Galvani himself in his laboratory in Bologna. This will be a partial preview of an upcoming Science Museum exhibition on nerve activity, to open in December 2013.

Phil Loring
Phil Loring is BPS Curator of Psychology at the Science Museum in London. He has a Master's degree in Medical Anthropology from Harvard University and is currently completing his Ph.D. in the History of Science, also from Harvard, with a dissertation on psycho-linguists in Cambridge, Massachusetts, after the Second World War. Phil has been at the Science Museum since 2009, and during that time he has been particularly committed to sharing artefacts related to psychology and psychiatry with adult audiences. He's currently preparing an exhibition on the history of nerves, to open in December 2013.

The Last Tuesday Society is honoured to house this exhibition and lecture series cultivated in collaboration with Joanna Ebenstein of the rightfully venerated 'Morbid Anatomy' Library, Museum & Blog.


Talks take place at The Last Tuesday Society at 11 Mare Street, London, E8 4RP - please click here to buy tickets