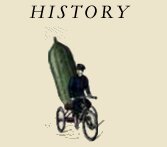 "It is true, the spoken word enlightens both the spirit and the soul. Indeed, the HENDRICK'S Master Distiller can often be heard talking at length to her 'two little sweeties' – the delightful and peculiarly small copper pot stills from which the most unusual gin flows."
THE LIGHT AND SHADOW PARLOUR
Shuji Terayama and Japanese Film
Friday the 4th March 2011
Doors at 6 pm, Show commences at 7 pm

This evening's Salon has Japanese filmmakers under its lens and includes a short presentation by The Society's Majordomo about the life and work of Shuji Terayama, founder of the avant-garde theatre group Tenjo Sajiki and noted filmmaker, poet, voyeur and horse-racing expert.
The Light and Shadow Parlour
The Light & Shadow Salon is a place for artists, writers and audience to meet and share ideas about the past, present and future of the moving image in all its forms.

Talks at 11 Mare Street - please click here to buy tickets