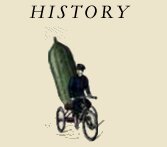 "It is true, the spoken word enlightens both the spirit and the soul. Indeed, the HENDRICK'S Master Distiller can often be heard talking at length to her 'two little sweeties' – the delightful and peculiarly small copper pot stills from which the most unusual gin flows."
Martin Clayton on Leonardo Da Vinci and Dissection
Tuesday 11th September 2012

Leonardo da Vinci is the archetype of the Renaissance man, but since his day he has been seen primarily as a painter who dabbled in the sciences. Leonardo would not have recognized this image: his scientific studies were as important to him as his art. Of all his investigations — which included optics, geology, botany and hydrodynamics — the field that engaged him most was human anatomy.

In the winter of 1507–08, Leonardo witnessed the peaceful demise of an old man in a hospital in Florence, and wrote in his notebook that he performed a dissection "to see the cause of so sweet a death". He attributed it to a narrowing of the coronary vessels, and wrote the first clear description of atherosclerosis in medical history. He also described the pathology of cirrhosis of the man's liver, which he found to be "desiccated and like congealed bran both in colour and substance".
The dissection of the old man marked the beginning of five years of intense anatomical investigation, and in 1510–11 Leonardo seems to have collaborated with Marcantonio della Torre, the professor of anatomy at the University of Pavia.

There is no sign that Leonardo attempted to collate his research for publication, and although the anatomical studies were mentioned by all Leonardo's early biographers, their dense and disorganized content was barely comprehended. Unpublished, the studies were effectively lost to the world.
The 150 surviving sheets of Leonardo's anatomical studies reached England in the seventeenth century and eventually made it into the Royal Collection, bound into an album with 450 of his more artistic drawings. But it was not until 1900 that they were finally published and understood. By then, their power to affect the progress of anatomical knowledge had long passed.
Martin Clayton is Senior Curator of Prints and Drawings at The Royal Library, The Royal Collection, Windsor Castle.

The Last Tuesday Society is honoured to house this exhibition and lecture series cultivated in collaboration with Joanna Ebenstein of the rightfully venerated 'Morbid Anatomy' Library, Museum & Blog.

Talks at 11 Mare Street - please click here to buy tickets