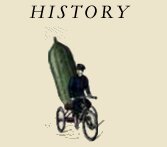 "It is true, the spoken word enlightens both the spirit and the soul. Indeed, the HENDRICK'S Master Distiller can often be heard talking at length to her 'two little sweeties' – the delightful and peculiarly small copper pot stills from which the most unusual gin flows."
Vadim Kosmos on Curious Cabarets of the Belle Epoque
Wednesday 11th September 2012
Doors at 6 pm, Show commences at 7 pm

While we may all have seen Eugène Atget's 1898 famous photograph of Cabaret de L'Enfer's façade at 53 boulevard de Clichy, with its malevolent maw threatening to devour all who dared to step within its damnable interior. But how did this most macabre of cafés originate and what went on within? Tonight's talk will illuminate the origins of Fin de Siecle Paris' craze for morbid drinking dens including L'Enfer's less well known, but no less sinister, sister establishments; Le Ciel, Neants & Truands.
Born in Istanbul of Ukrainian/French heritage – Screen writer, DJ and authority on French popular culture Vadim Kosmos is the Store manager of the Last Tuesday Society/'Viktor Wynd's Little Shop of Horrors' and Gallery director for Viktor Wynd Fine Arts.
The Last Tuesday Society is honoured to house this exhibition and lecture series cultivated in collaboration with Joanna Ebenstein of the rightfully venerated 'Morbid Anatomy' Library, Museum & Blog.

Talks at 11 Mare Street - please click here to buy tickets