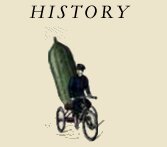 "It is true, the spoken word enlightens both the spirit and the soul. Indeed, the HENDRICK'S Master Distiller can often be heard talking at length to her 'two little sweeties' – the delightful and peculiarly small copper pot stills from which the most unusual gin flows."
EXTREME TAXIDERMY - Elephants and Humans
With Dr. Pat Morris
Wednesday the 26th September 2012
Doors at 6 pm, Show commences at 7 pm
After his highly acclaimed general lectures on the history of taxidermy Pat Morris will return to talk in more detail about two areas of special interest. Preserving a full-sized elephant represents the 'Mount Everest' of taxidermy. It is a challenge not only to the taxidermist's artistry (in attempting to make an accurate representation of the living animal) but it is also a serious engineering problem to handle such a large and heavy item. Taxidermy methods can be applied to humans, but our species is rarely preserved in this way and very few 'stuffed' humans exist. Even the
suggestion that people might be preserved like this is abhorrent to many, and the results of attempting the task can cause extreme controversy. Come and hear more and perhaps debate some of the ethical issues that arise".
Dr. Pat Morris
.
Dr. Pat Morris is a retired staff member of Royal Holloway College (University of London), where he taught biology undergraduates and supervised research on mammal ecology. In that capacity he has published many books and scientific papers and featured regularly in radio and TV broadcasts. The history of taxidermy has been a lifelong hobby interest and he has published academic papers and several books on the subject. With his wife Mary he has travelled widely, including most of Europe and the USA, seeking interesting taxidermy specimens and stories. They live in England where their house is home to the largest collection and archive of
historical taxidermy in Britain.

Talks at 11 Mare Street - please click here to buy tickets