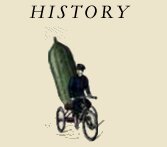 "It is true, the spoken word enlightens both the spirit and the soul. Indeed, the HENDRICK'S Master Distiller can often be heard talking at length to her 'two little sweeties' – the delightful and peculiarly small copper pot stills from which the most unusual gin flows."
THE EMPIRE OF DEATH
Spectacular Ossuaries and Relics in the 16th and 17th Centuries
With Dr Paul Koudounaris
Tuesday the 7th of February 2012
Doors at 6 pm, Show commences at 7 pm

For five years, Dr. Paul Koudounaris has traveled the world to document a largely overlooked history: the decoration of religious shrines with human bones and remains in the sixteenth and seventeenth centuries. His newly published book The Empire of Death (Thames and Hudson) presents a collection of Koudounaris' photographs and texts chronicling these incredible sites, many of which are not open to the public and have never before been photographed.

The research for this unique book took the author to over 70 preserved charnel houses and skeletal shrines on four continents to document the once common use of human remains for the veneration of the dead in Christian culture. Among other tribulations, in the course of completing his research, the author was pursued by malevolent spirits, handcuffed to a table in a striptease bar by a prurient monk, forced to undergo a religious pilgrimage and exorcism, and arrested by the Austrian police.

Join Dr. Koudounaris for an illustrated talk in which he will provide historical insights into the sites and people who created these marvelous objects and spaces, a discussion of the veneration of the dead in Christian culture, and fantastical travel anecdotes, all illustrated by his breathtaking photographs of these unforgettable artifacts.
Paul Koudounaris
Paul Koudounaris received a PhD in Art History from UCLA in 2006, which a specialty in the Baroque. He has taught at major universities in the Los Angeles area, and has written for dozens of magazines and newspapers in several countries, specializing in articles about veneration of the dead.

Talks at 11 Mare Street - please click here to buy tickets