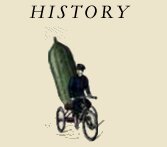 "It is true, the spoken word enlightens both the spirit and the soul. Indeed, the HENDRICK'S Master Distiller can often be heard talking at length to her 'two little sweeties' – the delightful and peculiarly small copper pot stills from which the most unusual gin flows."
THE SULTAN OF ZANZIBAR
The Bizarre World of Horace de Vere Cole
with Martyn Downer
Thursday the 24th February 2011
Doors at 6 pm, Show commences at 7 pm

A generation knew him as the man behind the infamous 1910 Dreadnought hoax, when the Royal Navy was fooled into honouring a troupe of fake foreign princes, including a youthful Virginia Woolf. It was the highlight of Cole's career as a practical joker, which kept the nation entertained for over twenty years through the tabloids and gossip columns. Yet the mischief concealed an undercurrent of anger, frustration and violence. The man peopleknew as 'our chief jester' was, as Winston Churchill said, 'a very dangerous man to his friends', with a darker, more political edge. He was an Etonian socialist whose hoaxes were intended as skewers to pomposity, a socialite who moved as easily through Soho and Whitechapel as Belgravia, and anAnglo-Irish eccentric in whose character violence mingled with dreamy romanticism and high-minded poetic idealism. Once the toast of society and the popular press, he lost his fortune and died alone in poverty, a complex figure in whom all the conflicts and contradictions of his times mingled, to often hilarious but sometimes tragic effect.

Martyn Downer
Martyn Downer was born in 1966 and educated at Stowe and at Edinburgh University where he read history. In 1993, after some years working in the antiques business in London, Martyn joined Sotheby's auctioneers where he subsequently became a director and head of the jewellery department. He is now a director of Corfield Morris, the independent consultants to collectors of Fine Art and Antiques. In 2003 Martyn published Nelson's Purse (Bantam Press, 2004) which related his discovery of a remarkable trove of treasures which had once belonged to Britain's greatest naval hero. His last book The Queen's Knight (Bantam Press, 2007) was a moving account of life inside the Court of Queen Victoria.
His book, The Sultan of Zanzibar; the Bizarre World and Spectacular Hoaxes of Horace de Vere Cole (Black Spring Press, 2010) is the first biography of this intruigng character and charts the story of this Edwardian prankster.
Martyn is currently writing a history of Britain from the Norman Conquest to the Second World War as experienced by generations of one family.

Talks at 11 Mare Street - please click here to buy tickets