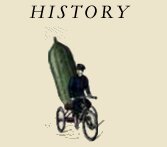 "It is true, the spoken word enlightens both the spirit and the soul. Indeed, the HENDRICK'S Master Distiller can often be heard talking at length to her 'two little sweeties' – the delightful and peculiarly small copper pot stills from which the most unusual gin flows."
The Coming of Age of the Danse Macabre on the Verge of the Industrial Age with Alexander L. Bieri
Illustrated lecture with Alexander L. Bieri
9th July 2013
Doors at 6:30 / Talk begins at 7:00 pm
Ticket price £7

During the middle ages, the danse macabre developed into an independent art form, most often in the shape of murals which adorned the walls of cemeteries. These depictions of death followed a strict rulebook and generally were a representation of the class system of the time, which was based on nobility or – to be more precise – the estate-based society. The advent of the bourgeois during the 1700s and the upcoming industrialisation put a question mark not only behind the societal system, but quite naturally also behind many of the established art forms. The danse macabre was widely regarded to be an outdated concept and a discussion evolved whether the skeleton still was the appropriate epitome for death. One of the proponents of this discussion was the Swiss artist Johann Rudolf Schellenberg, who created the first modern danse macabre in 1785, far away from the old class system, a work of art which still has an uncanny actuality and addresses many of the modern fears still extant in society at present. His trailblazing work updated the genre overnight and can be seen as the master source of all similar works of art to follow. A complete set of the plates is held by the Roche Historical Collection and Archive in Basel, which also holds one of the world's oldest anatomical collections. The lecture not only discusses Schellenberg's danse macabre in detail, but also gives an insight into the current fascination with vanitas and its depictions, especially focusing on the artistic exploitation of the theme and takes into consideration the history of anatomical dissection and preparation.

Alexander L. Bieri
Alexander L. Bieri (*1976) is the curator of the Roche Historical Collection and Archive, a department within Roche Group Holdings. He assumes this position since 1999. Based in Basel, Switzerland but active as a consultant throughout the world, he has published many books and articles both on Roche-related and other themes. He also is responsible for a variety of Roche in-house museums and curated special exhibitions in Switzerland and abroad. In his capacity as an expert for 20th century architecture and design, he is a member of ICOMOS. In 2012, he was appointed lecturer for exhibition design at the Basel University.

Talks take place at The Last Tuesday Society at 11 Mare Street, London, E8 4RP - please click here to buy tickets