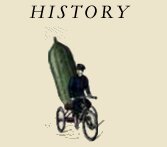 "It is true, the spoken word enlightens both the spirit and the soul. Indeed, the HENDRICK'S Master Distiller can often be heard talking at length to her 'two little sweeties' – the delightful and peculiarly small copper pot stills from which the most unusual gin flows."
Paul Craddock on "A Most Unexpected History of Blood Transfusion".
This talk took place on Thursday 20th September 2012
Podcasts may take a few minutes to load, please be patient.
Those living in Britain (who owned a television set) about ten years ago might remember Sean Bean before he became a famous movie star. Apart from his appearance in Sharpe, he starred in a television advertisement for the National Blood Foundation, prompting people in his thick Yorkshire accent to 'do something amazing today'; 'save a life' by giving blood. The foundation's message is still the same, though Sean Bean has moved onto other projects such as Lord of the Rings. In any case, this illustrated lecture is about just that: the transfusion of blood and its many meanings. But it focuses on a much earlier (and stranger) period of transfusion history when saving a life was only one reason to transfuse blood - from the sixteenth century to the nineteenth.

The association between blood and life is a very easy one to make and seems to span all cultures and time periods, as does the very idea of swapping blood from one person to another. But what it means to swap one being's blood with another's - and why this might be attempted - has radically changed. It is only very recently, (around the turn of the twentieth century), that blood was transfused in order to purposefully replace lost blood. For the majority of this history, this was most certainly not the case. In the seventeenth century, transfusions of lamb's blood were made to calm mad patients and, in the nineteenth century, blood was transfused in order to restore a portion of an invisible living principle living inside of it. This lecture explores from where these ideas came and the ways in which bits of them might linger in our own ideas of transfusion.

Paul Craddock is currently writing on pre-20th century transplant surgery and transfusion at the London Consortium working under Prof. Steven Connor (University of London) and Prof. Holly Tucker (Vanderbilt University, Nashville). After four years studying music and performing arts, living in rural China, and working for the National Health Service, Paul made the switch to cultural and medical history. He has never had a transplant and never received a transfusion - his interest in these procedures come from thinking about generally how we relate to the material world by making bodily transactions. He has lectured in the UK, Europe, and the USA
The Last Tuesday Society is honoured to house this exhibition and lecture series cultivated in collaboration with Joanna Ebenstein of the rightfully venerated 'Morbid Anatomy' Library, Museum & Blog.