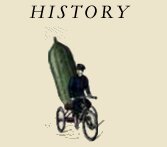 "It is true, the spoken word enlightens both the spirit and the soul. Indeed, the HENDRICK'S Master Distiller can often be heard talking at length to her 'two little sweeties' – the delightful and peculiarly small copper pot stills from which the most unusual gin flows."
Dissection and Witchcraft: Images of Corpses in Early Modern Art

with Constanza Isaza Martinez
18th June 2013
Doors at 6:30 / Talk begins at 7:00 pm
Ticket price £7

This lecture examines images of human corpses in Early Modern European art in relation to two specific themes: the practice of 'witchcraft' or 'magic'; and the emergent medical profession, particularly anatomical dissection. As the images demonstrate, the two practices were closely linked during this period, and the corpses were a source - albeit fraught with anxieties - of power and knowledge for the figures of the witch and the anatomist.

Constanza Isaza Martinez is an artist, photographer, and independent researcher. She gained her BA in Photographic Arts from the University of Westminster, and her MA in History of Art from the Courtauld Institute. Both her art and her research have frequently explored themes of mortality, mutability, death, and decay. For more information, please visit www.constanzaisaza.com.

The Last Tuesday Society is honoured to house this exhibition and lecture series cultivated in collaboration with Joanna Ebenstein of the rightfully venerated 'Morbid Anatomy' Library, Museum & Blog.


Talks take place at The Last Tuesday Society at 11 Mare Street, London, E8 4RP - please click here to buy tickets