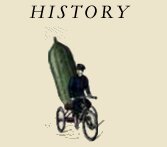 "It is true, the spoken word enlightens both the spirit and the soul. Indeed, the HENDRICK'S Master Distiller can often be heard talking at length to her 'two little sweeties' – the delightful and peculiarly small copper pot stills from which the most unusual gin flows."
CITY OF SIN - London and its Vices
With Catharine Arnold
Wednesday the 8th June 2011
Doors at 6 pm, Show commences at 7 pm
If Paris is the city of love, then London is the city of lust. For over a thousand years, England's capital has been associated with desire, avarice and the sins of the flesh. Richard of Devises, a monk writing in 1180, warned that 'every quarter [of the city] abounds in great obscenities'. As early as the second century AD, London was notorious for its raucous festivities and disorderly houses, and throughout the centuries the bawdy side of life has taken easy root and flourished. Award-winning popular historian Catharine Arnold turns her gaze to the city's relationship with vice through the ages.
From the bath houses and brothels of Roman Londinium, to the stews and Molly houses of the 17th and 18th centuries, London has always traded in the currency of sex. Whether pornographic publishers on Fleet Street, or fancy courtesans parading in Haymarket, its streets have long been witness to colourful sexual behaviour. In her usual accessible and entertaining style, Arnold takes us on a journey through the fleshpots of London from earliest times to present day. Here are buxom strumpets, louche aristocrats, popinjay politicians and Victorian flagellants - all vying for their place in London's league of licentiousness. From sexual exuberance to moral panic, the city has seen the pendulum swing from Puritanism to hedonism and back again.
Catharine Arnold
Catharine Arnold read English at Cambridge and holds a further degree in psychology. A journalist, academic and popular historian, Catharine's previous books include the novel "Lost Time", winner of a Betty Trask award. Her London trilogy for Simon & Schuster comprises of "Necropolis: London and Its Dead", "Bedlam, London and Its Mad" and "City of Sin, London and Its Vices".


Talks at 11 Mare Street - please click here to buy tickets