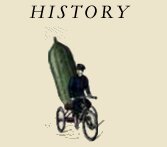 "It is true, the spoken word enlightens both the spirit and the soul. Indeed, the HENDRICK'S Master Distiller can often be heard talking at length to her 'two little sweeties' – the delightful and peculiarly small copper pot stills from which the most unusual gin flows."
MASTER CLASS ON THE ART OF BEING A GENTLEMAN
With Gustav Temple
This lecture took place on the 22nd of February 2011

A master class for the modern gentleman including invaluable advice on vintage attire, trilby choice, sock suspenders, braces, 1930s and 1940s grooming, the best moustache wax, top hat and bowler... Gustav Temple, that louche, debonair and most exquisitely dressed editor of The Chap magazine, comes to the Last Tuesday Society to share his tips on living as an anarcho-dandy in the 21st century.

Gustav Temple
Gustav Temple is Editor of The Chap, a bi-monthly serving of advice on personal grooming, revolutionary etiquette and common courtesy, offering guidance to those cast adrift in a world of increasing vulgarity.