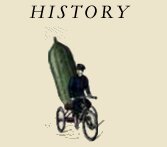 "It is true, the spoken word enlightens both the spirit and the soul. Indeed, the HENDRICK'S Master Distiller can often be heard talking at length to her 'two little sweeties' – the delightful and peculiarly small copper pot stills from which the most unusual gin flows."
WILLIAM BURROUGHS and the TORSO MURDERER
with Oliver Harris
This lecture took place on the 19th November 2010

William Burroughs writes "...in this life we have to take things as we find them as the torso murderer said when he discovered his victim was a quadruple amputee."
It was 1951 Mexico City when William S Burroughs, fledgling author and heroin addict, accidentally shot and killed his wife, Joan, in a drunken re-enactment of the story of William Tell. The experience sparked a creative awakening which produced masterpieces of Beat Generation literature such as "The Naked Lunch" and "The Soft Machine".
Burroughs was hailed by Norman Mailer as "The only American novelist living today who may conceivably be possessed by genius", His works have been cited as a major influence by musicians such as Lou Reed, Joy Division, Tom Waits, Nick Cave and Kurt Cobain.
Oliver Harris
Oliver Harris is Professor of American Literature at Keele University, and the editor/author of seven books and numerous articles concerning Burroughs. He has recently edited Burroughs' early trilogy of novels including Junkie and Queer for Penguin Books.