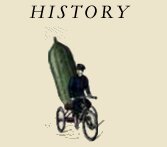 "It is true, the spoken word enlightens both the spirit and the soul. Indeed, the HENDRICK'S Master Distiller can often be heard talking at length to her 'two little sweeties' – the delightful and peculiarly small copper pot stills from which the most unusual gin flows."
THE DARK MONARCH
Magic and Modernity in Modern Art
With Michael Bracewell
Tuesday the 15th November 2011
Doors at 6 pm, Show commences at 7 pm

This talk takes its title from the infamous 1962 book by St Ives artist Sven Berlin. He will explore the influence of folklore, mysticism, mythology and the occult on the development of art in Britain. Focusing on works from the beginning of the twentieth century to the present day Michael Bracewell will consider, in particular, the relationship they have to the landscape and legends of the British Isles.
Michael Bracewell
Critic, novelist and cultural voyeur, Michael Bracewell is a sort of non-celebrity Will Self. His first novel, The Crypto-Amnesia Club, was published in 1988. It was followed by Divine Concepts of Physical Beauty (1989), The Conclave (1992) and Saint Rachel (1995). His most recent novel, Perfect Tense (2001), explores the minutiae of office life. His non-fiction includes a cultural history of England, England Is Mine: Pop Life in Albion From Wilde to Goldie (1997) and his writing is included in The Faber Book of Pop (1995) and The Penguin Book of Twentieth-Century Fashion Writing (1999).


Talks at 11 Mare Street - please click here to buy tickets