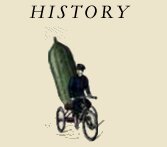 "It is true, the spoken word enlightens both the spirit and the soul. Indeed, the HENDRICK'S Master Distiller can often be heard talking at length to her 'two little sweeties' – the delightful and peculiarly small copper pot stills from which the most unusual gin flows."
Heartthrobs of the Human Zoo: Ethnographic Exhibitions and Captive Celebrities of Turn of the Century America
An Illustrated Lecture with Betsy Bradley
6th June 2013
Doors at 6:30 / Talk begins at 7:00 pm
Ticket price £7

The ethnographic exhibitions that became popular in late Victorian Europe gave white visitors the chance to gaze upon entire villages of naturmenschen, temporarily imported from distant (usually colonial) lands and going about their daily lives in recreated habitats, much like their animal counterparts at the zoo. The Busby Berkeley scale of these colonial show-and-tells was designed to make a statement: instead of one displayed person, here were tribes of them, "villages negres," to quote the French. But the pointed anonymity of these living diorama could not prevent the media and the public from making stars out of their favorite "savages," particularly in the United States. From ransomed Congolese pygmies to winsome Eskimo babies, the American world's fairs and patriotic expositions present history with a number of troubling ethnographic celebrities, and their stories offer a rare glimpse inside the psychology and culture of imperial America at the turn of a new century.

Betsy Bradley is a Brooklyn-based writer whose interests include the hidden histories of New York City and the intersection of literature, science, and American popular culture. She is the author of Knickerbocker: The Myth Behind New York, and a contributor to theCambridge Companion to the Literature of New York, among other anthologies. She has written for Edible Manhattan, Edible Brooklyn, Bookforum, and The New York Times. Bradley is the author of a forthcoming guidebook about New York to be published by Reaktion Books (UK) and is at work on a history of eugenics and its impact on American society, from sideshows to compulsory sterilization.

Image credit: Several children, including Nancy Columbia, in the Eskimo exhibit at the Louisiana Purchase Exposition, St. Louis, 1904. Photographer: Charles Carpenter n© The Field Museum

The Last Tuesday Society is honoured to house this exhibition and lecture series cultivated in collaboration with Joanna Ebenstein of the rightfully venerated 'Morbid Anatomy' Library, Museum & Blog.


Talks take place at The Last Tuesday Society at 11 Mare Street, London, E8 4RP - please click here to buy tickets