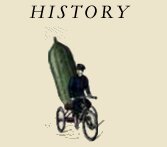 "It is true, the spoken word enlightens both the spirit and the soul. Indeed, the HENDRICK'S Master Distiller can often be heard talking at length to her 'two little sweeties' – the delightful and peculiarly small copper pot stills from which the most unusual gin flows."
Bad Vibrations: The History of the idea of Music as a Disease
with Dr James Kennaway
Tuesday the 25th September 2012
Doors at 6 pm, Show commences at 7 pm


Despite most people believing music to have beneficial and even healing properties, Dr Kennaway's research shows a darker side to the art. For the last two hundred years many doctors, critics, and writers have suggested that certain kinds of music have the power to cause neurosis, madness, hysteria, and even death. Dr Kennaway explores the claims: is it true that Wagner's compositions make listeners feel homosexual urges? Was Patty Hearst really brainwashed into robbing banks by loud rock music? And does the US Army really play Metallica's 'Enter Sandman' as a form of torture?

Dr James Kennaway
Dr James Kennaway is a Wellcome Trust Research Fellow at the Centre for the History of Medicine and Disease at Durham University. He studied at LSE and the Wellcome Institute for the History of Medicine before completing a Master's at King's College, London and a PhD at UCLA in 2004. Since then he has worked at the University of Vienna, Stanford University and the Viadrina University in Frankfurt-an-der-Oder, Germany. In January 2009 he began a Wellcome Research Fellowship at the University of Durham.

Talks at 11 Mare Street - please click here to buy tickets