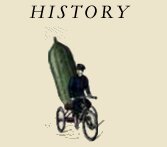 "It is true, the spoken word enlightens both the spirit and the soul. Indeed, the HENDRICK'S Master Distiller can often be heard talking at length to her 'two little sweeties' – the delightful and peculiarly small copper pot stills from which the most unusual gin flows."
Dr Sam Alberti on the History of Medical Museums.
Tallk took place on Wednesday 5th September 2012
Podcasts may take a few minutes to load, please be patient.

In the first comprehensive study of nineteenth-century medical museums, Morbid Curiosities traces the afterlives of diseased body parts. It asks how they came to be in museums, what happened to them there, and who used them. This book is concerned with the macabre work of pathologists as they dismembered corpses and preserved them: transforming bodies into material culture. The fragmented body parts followed complex paths - harvested from hospital wards, given to one of many prestigious institutions, or dispersed at auction. Human remains acquired new meanings as they were exchanged and were then reintegrated into museums as physical maps of disease. On shelves curators juxtaposed organic remains with paintings, photographs, and models, and rendered them legible with extensive catalogues that were intended to standardize the museum experience. And yet visitors refused to be policed, responding equally with wonder and disgust. Morbid Curiosities is a history of the material culture of medical knowledge in the age of museums.
Sam Alberti is Director of Museums and Archives at the Royal College of Surgeons of
England, which includes the renowned Hunterian Museum. He is interested in the past,
present and future of medical and natural history collections. His books include Nature and
Culture: Objects, Disciplines and the Manchester Museum (2009), The Afterlives of
Animals: A Museum Menagerie (2011) and Morbid Curiosities: Medical Museums in
Nineteenth-Century Britain (2011).


The Last Tuesday Society is honoured to house this exhibition and lecture series cultivated in collaboration with Joanna Ebenstein of the rightfully venerated 'Morbid Anatomy' Library, Museum & Blog.